This is an email I sent to a friend going to the Big Island soon. I intend for my travel guides to follow this same format – food/drink/activities that are worth doing, anything I wouldn't bother with if I had it to do over, plus the few things that didn't get on the itinerary but would have with more time.
–   Snorkeling! We ended up doing some on the Hilo side of the island as the Kona side had big waves and beaches were closed. Generally, if the Kona side is open it's superior. 
http://www.lovebigisland.com/great-snorkeling-spots-

hawaii

/
Best spot, with easy access is Honaunau Bay (or 2 step), shallow on the left (with easy, walk down a ramp access), deeper on the right (take your time and wait for the water to help you getting in and out). Huge area, we spent almost all day here.
I wish we had gone to the Captain Cook monument as we went nearby and saw the spinner dolphins from shore – but we could have been even closer. It requires a hike or paying a kayak company $100 each 
http://www.tropicalsnorkeling.com/snorkeling-captain-cook-monument.html
 and we did this on our last day so just didn't have the time to commit. I would do the hike if I go again, but as long as you're out there for a few hours the kayak trip could be nice too.
In terms of the Hilo side, we drove the coast from Hilo north and just picked a spot to get in, there are lots of beach parks along the road.
–   Green sand beach. Super cool! 
http://www.bigislandhikes.com/papakolea-green-sand-beach/
  You drive (past the southernmost point of the US, if you're into that kind of thing (I am!)) to a parking area and then can walk or pay $15 for a ride. We didn't even do the whole hike, as there's small patches of green sand earlier than 2.5 miles in. It's an easy hike and if you stay on the road or trail nearest the ocean you will come across a lot of cool little coves.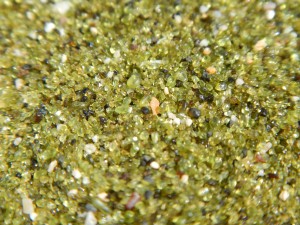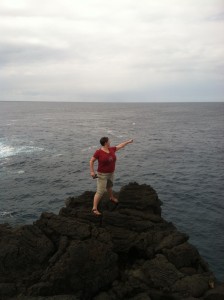 –   Thermal pools 
http://www.lovebigisland.com/hot-ponds/
 On the other side of the island, we combined this with our trip to Volcanoes and I wish we'd spent more time here. It was gorgeous at sunset. A huge pool of bathtub temperature water, with easy access. Busy on weekends.
–   Volcanoes national park: Super cool to be there at night and see the lava glow. Hotspots change but when we were there it was possible to see it from the visitor center road so no night hiking was involved. We went earlier in the day to do the relatively easy caldera hike down into the crater and back up. The visitor center also had directions for how to see the actively flowing lava nearby. 
http://www.nps.gov/havo/planyourvisit/things2do.htm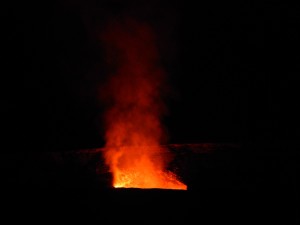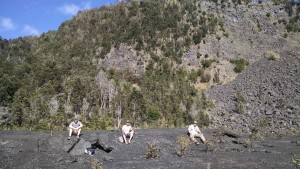 In Waimea, a short drive 
http://bigislandbrewhaus.com
 had really, really good food (poke wonton tacos and kung pao macadamia nuts) and the beer was good too. Would go back in a heartbeat.
---
We paid for one of the manta ray night snorkeling experiences, but I don't recommend it. It's expensive, crowded, and didn't feel special. Also, it's in deep, open water so even I was a bit wary of the swimming situation.
Don't forget it's a big island! We stayed a bit south of Kona and it was a 90 minute trip to Volcanoes and Mauna Kea, and longer to Hilo. They're all quite lovely drives, and I still would always stay on the Kona side due to the better beaches and snorkeling. I've attached the map I printed out of beaches that I scribbled on and used as a basic guide.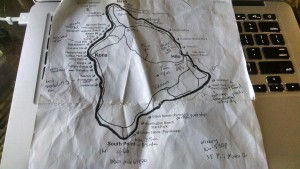 To bring:
warm clothes for stargazing at Mauna Kea
headlamps for caves and/or night hiking in Volcanoes
good hiking shoes
snorkel and mask (rentals can be crap, buy a set at Sport Chalet before you go or we can lend you gear)
water shoes or old sneakers
waterproof camera